Donate to the Focal Point in memory of Bob "Blu" Lucas Jr.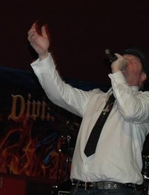 1967-2017
Robert A. "Blu" Lucas Jr., 49,
Loving son of Robert and Rita Lucas. Dear brother of Ken (Hope) Lucas and Paul (Sara) Lucas.
Known as "Blu" to many of his friends, he was passionate about music whether playing with a band, hosting karaoke, or as DJ at a wedding. Bob loved entertaining and bringing joy to the crowd. He played guitar and sang in his family's band, The Sons of Bob, and was the lead singer of Divine Chaos. He could often be seen jumping on stage to sing with other bands, and clearly loved every moment of the limelight. Blu's energy on stage was contagious and brought the music to life for friends and strangers alike. Bob's good nature and compassionate spirit will be missed by everyone.  Bob last played the Focal Point, with the Sons Of Bob, just over a month ago on February 17th.
Visitation: Friday March 24, 4-8pm at Bopp Chapel. www.boppchapel.com
Memorial Mass Saturday March 25, 9:15am at St. Peter Catholic Church.
Interment private.
Or send checks payable to the Focal Point to:
2720 Sutton Blvd.
Maplewood, MO 63143