All our ticket prices are discounted for advance purchases.  For example, $10/$15 means ten dollars in advance or fifteen dollars at the door. Unless otherwise specified, advance tickets are available until noon on the day of the concert for evening shows, and 10AM on the day of the concert for Matinee shows, at brownpapertickets.com.  For any difficulties with online purchases, please call 1-800-838-3006.
DOORS OPEN 30 MINUTES PRIOR TO EACH SHOWTIME
---

Friday, October 18th, 8pm, $10/15: Focal Point Friends of Traditional Jazz, Blues & Ragtime Present: Ethan Leinwand – Barrelhouse Blues Piano
Ethan Leinwand is a St. Louis-based barrelhouse blues pianist and preservationist. A student of the music's rich history and varied regional styles, Ethan presents personal interpretations of many of the great (and forgotten) old-time masters. He specializes in St. Louis pre-war piano blues, Texas barrelhouse, Deep South barrelhouse, early Chicago boogie-woogie, and good-time hokum stride. His influences include: Little Brother Montgomery, Black Bob, Jimmy Yancey, Henry Brown, Peetie Wheatstraw, Robert Shaw, Cooney Vaughn, and Carl Sonny Leyland.
During his concerts, Ethan educates as he entertains.  He tells the story of this under-appreciated African-American folk art; from the artists who created it, the environments whence they came, and its importance in shaping the history of American music. 
Ethan performs throughout the United States and Europe, and is gaining recognition as one of the country's leading exponents of barrelhouse blues piano.  He has taught at The Port Townsend Acoustic Blues Workshop (WA) and lectured at The West Coast Ragtime Festival (Sacramento, CA). Other notable appearances include The UK Boogie Festival, The Brooklyn Folk Festival (NY), The LaRoquebrou International Boogie-Woogie Festival (France),  and The University of Chicago Folk Fest (IL).
Tickets are still available at the door.
---

Saturday, October 19th, 8pm, $15/20: Letho and Wright
Lehto & Wright is a Minnesota-based folk-rock band.  Reminiscent of bands like Jethro Tull, Steeleye Span, Fairport Convention, and Tempest, they have a sound that is a unique blend of traditional and modern styles.  By taking cues from the British Isles and American folk traditions and interpreting them with contemporary guitar-based arrangements, Lehto & Wright have taken a unique approach to the world of folk music.     
As a duo, John Wright and Steve Lehto perform their material in an acoustic, unplugged setting. From American spirituals to Irish tune sets, their accomplished twin guitar/mandolin approach has all the intensity and power of their full-blown band with half the volume.  As a trio, Lehto & Wright push the boundaries of Celtic and progressive folk rock, utilizing all the tools of the full band to achieve the effect of a six-piece band with only three musicians.
The Focal Point is delighted to welcome these old friends of ours back!  
THIS SHOW HAS BEEN CANCELLED.  ALL TICKETS WILL BE REFUNDED.
---

Wednesday, October 23rd, 7:30pm (Doors 6:45), $20/25: Songbird Cafe
Brian Henneman,
Kip Loui
Dana Michael Anderson
Jimmy Griffin

---

Friday, October 25th, 8:00pm, $12/15: The Creek Rocks
The Creek Rocks are a folk group from the Ozarks led by banjoist Cindy Woolf and guitarist Mark Bilyeu.  These longtime musical collaborators worked together on Cindy's three CDs of original songs starting in 2005, they married in 2013, then established The Creek Rocks in 2015.  Mark is a founding member of the popular Ozarks family band Big Smith, with whom he toured and recorded for sixteen years.
Their debut release, Wolf Hunter, is an album of sixteen folk songs from the Ozarks, arranged by The Creek Rocks and gathered from the collections of folklorists Max Hunter of Springfield, Missouri (Mark's hometown) and John Quincy Wolf of Batesville, Arkansas (Cindy's hometown).  Joining them on the album are bassist Jason Chapman of The Chapmans bluegrass band and percussionist Jay Williamson, also of Big Smith.  Cindy and Mark sometimes enlist a a host of talented musician friends to back them up, but will be performing as a duo for this performance.

---

Saturday, October 26th, 8pm, $15/20: Shari Kane and Dave Steele
As an acoustic blues duo, Shari and Dave throw a four-handed guitar party of original and time-honored blues, gospel, swing, and ragtime. Steeped in Dave's smoky vocals, percussive rhythm and innovative lead lines and in Shari's crisp picking style, rootsy leads, and stinging slidework, their music has been described as street swing and stomp blues, like a testament to sounds once heard on the streets of Harlem, the juke joints of Mississippi, or from the jug bands of Memphis.

---

Thursday, October 31st, 7:30pm, $15/20: Focal Point Friends of Old-Time Music Present: Molsky's Mountain Drifters
A laser-tight trio with an ear for lovely, lilting traditional melodies, Molsky's Mountain Drifters brings tradition steeped in possibility.  The grace and wisdom of longtime fiddle player and Grammy nominated multi-instrumentalist Bruce Molsky, Berklee College of Music's Visiting Scholar in the American Roots Program, described as "an absolute master" (No Depression), melds with the electricity of guitarist Stash Wyslouch and banjoist Allison de Groot to bring new ideas to traditional music. 
Allison de Groot is the kind of artist whose virtuosity is built on her strength as a player, performer, and composer, and is known for her "great clawhammer banjo technique, exquisite tone, timing, and taste.  She has deep roots in the old-time tradition and yet she's fearless when it comes to breaking new ground." (Tony Trischka)
Stash Wyslouch is one of bluegrass's great young genre-bending pioneers, "a brilliant and free-thinking mind." (Chris Eldridge, Punch Brothers)  Coming over from the punk-metal world, Stash brings great sensitivity and real emotion to the trio, plus superb guitar and vocal chops.
These striking musicians have come together for a new sound within the traditional music genre through their audacious approach. "I was looking for a new voice," says Molsky, "a new avenue of expression using old-time mountain music as the jumping-off point, but not being constrained by hardcore traditionalism. Allison and Stash are showing me the way, just where the music is headed, in directions I never would have imagined when I started my own journey into the mountains a long time ago." 

---

Friday, November 1st, 8pm, $10/15: Focal Point Friends of Traditional Jazz, Blues & Ragtime Present: Dizzy Atmosphere
Collectively influenced by an range of American (Joe Venuti & Eddie Lang, Stuff Smith), French (Django Reinhardt and Stephane Grappelli), and Latin (Antonio Carlos Jobim, Xavier Cugat) recording artists, Dizzy Atmosphere performs a wide variety of repertoire.  They are the embodiment of  insouciance.
Jon Ferber has performed and recorded with Swing Set, the Orbits, the Lettuce Heads, the Erin Bode Trio, and the Western Satellites.  His guitar style is deeply rooted in the swinging sounds of Charlie Christian and Django Reinhardt.  Richard Tralles has performed and recorded with Miss Jubilee and the Yas Yas Boys, Diesel Island, Swing Set, the Vendors of Substance, and Box of Nerves.  His swinging sensibilities and sweet vocal style jive with the band's vibe.  Earthy and swinging Christopher Voelker's violin lends and air of casual elegance to this trio's sound.  He has also performed as a featured guest with Swing Set, Coco Rico, Fleur de Lou, and Hot Club of St. Louis. 

---

Saturday, November 2nd, 8pm, $15/20: Mark Deutsch
A professional musician since the age of twelve, Mark is a visionary artist with a background in nonlinear mathematics, sacred systems, and cosmology.  As a classically trained bassist and sitar player, he gained extensive experience in orchestral and world music ensembles, jazz combos, and solo sitar performance.  While studying North Indian classical music with the legendary sitar and surbahar master Ustad Imrat Khan (younger brother of Ustad Vilayat Khan), Mark began delving deeper into the universal fundamentals of music and its underlying frequency structures.  This in turn led him to his quest to develop an instrument that could reproduce his findings.  This work culminated in 1999 with Mark being awarded a US patent for his groundbreaking new instrument: Bazantar – a six-string acoustic bass fitted with an additional twenty-nine sympathetic strings and four drone strings. The result is a remarkable instrument that weaves a mesmerizing soundscape of resonance and evokes all the power of Western classical music with the depth and nuance of Eastern traditions.
"What Mark has done really expands the horizon of the bass. The sound created on the Bazantar is like nothing ever heard before.." 
– Eric Harris, Principal Bassist, St. Louis Symphony.
"…a visceral reaction akin to my stunned and delighted response to first hearing a symphony orchestra…" 
– David Walter, Instructor at Julliard, Principal Bassist New York Philharmonic.
"Mark's sonic explorations invoke the ancient tradition of trance-ritual and embody a sacred musicality rarely heard in Western cultures." 
– Bill Laswell, Producer, Audio Alchemist and Bassist.
"Mark Deutsch has created explorations into the depths of sound where the roots of tonality beneath Eastern and Western systems are one. This historic tone poem bridges the dark opulence of tone to the high visionary sounds of the spirit. A must for all sonic adventurers.
– Don Campbell, Author of "The Mozart Effect".
"What has Mark Deutsch done? In the simplest terms, he's spent decades building a new acoustic instrument, the Bazantar, in which more harmonics can interact with each other with clarity than in any other instrument, and then created music with a higher order of resonance than previous music. Listen and know you're one of the early ones, one of the few. You are listening to the future." 
– Jaron Lanier, "Founding Father" in virtual reality,  Futurist, Computer Scientist, Composer and Author of "You Are Not a Gadget" and "Who Owns the Future?"
https://www.facebook.com/bazantar/
https://www.facebook.com/mark.deutsch2
https://bazantar.bandcamp.com/
https://www.amazon.com/s?k=the+picasso+tunings&i=popular&ref=nb_sb_noss
https://www.youtube.com/watch?v=crSi9IxPfYA
https://www.youtube.com/watch?v=MOBaPO1AB8A
https://www.youtube.com/watch?v=_Ulanf2xd8Y

---

Sunday, November 3rd, Time 7:30, $15/20: Focal Point Friends of Old-Time Music Present: The Baker Family
The Baker Family is a high-energy family bluegrass band located in south- central Missouri.  Their repertoire includes high-energy bluegrass, gospel, and classic country music.  They have performed at numerous bluegrass events in Missouri and throughout the United States from Maine to California.  The band members are: Trustin Baker on fiddle and vocals, Carina Baker on mandolin and vocals, Elijah Baker on upright bass and vocals, and Carrie Baker on guitar.   Last Spring the Baker Family played to a sold-out room at the Focal Point; we are excited to have them back.

---

Wednesday, November 6th, 7:30pm, $10/15: Iron Gibbs (aka The Sapsuckers & Friends- Square Dance
Iron Gibbs (pronounced "jibz") is an old-time square-dance "super group" from rural Southwestern Wisconsin. The group focuses on the regional old-time traditions of the Upper Midwest, including tunes from Wisconsin's Kickapoo and Mississippi River bottomlands. Iron Gibbs includes members of the Yellow-Bellied Sapsuckers (Nikki Grossman, fiddle and guitar; Joe Hart, guitar) and Kickapoo Joy Juice (Liz Voz, dance caller, fiddle, guitar, and pump organ; Jesse Downs, dance caller, fiddle, concertina, and banjo). Together, the foursome bring an infections, upbeat, and refreshing energy to dances, where called dances for any experience level are interspersed with waltzes, schottisches, and other couple dances.
The floor will be completely open for dancing for the event.

---

Friday, November 8th, 8pm, $15/20: Rogers and Nienhaus
Two exceptional musicians with a lifelong career of performance on the world stage, ROGERS & NIENHAUS are just that…..world-class!!! With pristine harmony and searing instrumentation, they are truly a 'not to be missed' act, whether performing as a duo or with The ROGERS & NIENHAUS Band. Terry Jones Rogers & Scott Nienhaus have been performing together since meeting in Nashville,TN in 1993, when Terry invited Scott to join the newly formed group, The Byrds Celebration, along with Byrds alumni Skip Battin and Gene Parsons.  Both Terry and Scott had storied pasts when they began their long career working together; Terry's Macon,GA roots, recording at famed Capricorn Records Studio with The Pound & Rogers Band and touring the world with classic rock veterans; and Scott's St. Louis,MO roots with his band, Blueberry Hill Records recording artists Acousticity, and touring the world with The Nicolette Larson Band. Now based out of the St. Louis Metro area, ROGERS & NIENHAUS have become local favorites with their fiery performances and flawless harmonies, as well as performing national and international engagements. 

---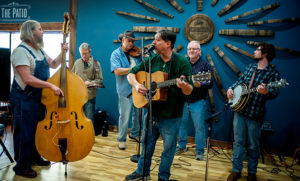 Saturday, November 9th, 8pm, $10/15: The Peoples
St. Louis' Premier Outlaw Bluegrass Band.  This sextet of veteran area musicians, which includes Honest Chad White on banjo, Jim "Doc" Simpson on fiddle, Nashville Ron Bookout on dobro, Russel "the Muscle" Rench on mandolin, and Red A. Jones on bass, all led by the dynamic front man Jack "no nickname needed" Semelsberger playing guitar and singing.  
This performance will focus on Jack's catalog of original material.  Songs will run the gamut of profound to ridiculous and feature yet to be released material from their upcoming album and even newer numbers that the ink hasn't even dried on yet.  This will be a barn burner.*
*No actual barns will be burned during this performance.

---

Thursday, November 14th, 7:30pm, $12/15: Focal Point Friends of Traditional Jazz, Blues & Ragtime Present: Lovestruck Balladeers (with opening set by the St. Louis Steady Grinders)
The Lovestruck Balladeers bring traditional music into the 21st century with all the energy of a train disaster.  They might whip out a lost melody from a forgotten mandolin folio or they might play a Mexican waltz.  They might push into a renegade re-arrangement of a swing standard or get down with a country rag.  They are the five scorpion sons of a West Virginia dance hall, a Little Italy tourist attraction, and a Oaxacan birthday party.  Together, or on their own paths, this stellar band of traveling musicians has traversed the country and the globe, carrying traditional styles into modern times.  The versatile quintet features twin fiddles, clarinet, guitars, a mandolin trio, upright bass, banjo, piano, and vocal harmonies.  Their repertoire is a rare repository of American and international music seldom heard beyond the walls of low-lit dance halls found at the edge of the known world.  The past never sounded so palpable.  Hailing from across the United States and Canada, The Lovestruck Balladeers are: Jake Sanders, Aaron Jonah Lewis, Dennis Lichtman, Sean Cronin, and Dalton Ridenhour.

---

Friday, November 15th, 8pm, $15/20: Adrian Legg
Adrian Legg is a guitarist's guitarist and a musician's musician, winning Joe Satriani's praise and supporting him on tour, and his solo performances are marked by their technical brilliance, evocative melodies, and adventurous spirit.  Adrian has won a lion's share of awards, including Guitarist of the Decade by Guitarist Magazine (UK).  Furthermore, Adrian is a master clinician, having taught at Musicians' Institute and the National Guitar Workshop recently, and with numerous instructional books and DVDs to his credit.  He has also been a frequent contributor to the NPR program All Things Considered over the years.  In early 2015, Adrian Legg released a new album, Dead Bankers.

---

Saturday, November 16th, 8pm, $15/20: Dennis Stroughmatt et l'Esprit Creole
In the Heart of North America is a story that remains to be told, the story of the French creoles who founded the Illinois country over three hundred years ago along the Wabash and Mississippi River corridors.  Today they remain with their songs, stories and language, and one music group continues to carry the torch of this enduring culture: Dennis Stroughmatt et l'Esprit Creole.  It's an old-time country stringband with an exotic twist: fiddle-driven songs and tunes you ALMOST know… a great night with brilliant music!

---

Saturday, November 22nd, 8pm, $10/15: Focal Point Friends of Traditional Jazz, Blues & Ragtime Present: The Rum Drum Ramblers Return
The backward-glancing trio Rum Drum Ramblers is most commonly thought of as a blues band, and certainly, the young men in the group seek to revive a certain strand of acoustic, prewar blues music. But after listening to its second album, Mean Scene, one could argue that the Ramblers is a soul band; just listen for a few minutes to guitarist and singer Mat Wilson's sweet, husky voice and feel the easy rhythm of the best early R&B singers. Or perhaps it's best to describe it as a country act: there's so much twang-bangin and swift-pickin' on "Nothin' New" that Buck Owens is probably tipping his ten-gallon hat to these fellows from the great beyond. But then, terming the Rum Drum Ramblers as country (or blues or soul) would ignore the jazzy underpinnings that Joey Glynn pumps out of his sonorous upright bass and the forceful blowing of its guest horn players. Better yet to put genre tags aside and let the Ramblers interpretation of American folk idioms fan you like a humid breeze.
The Ramblers don't mind if a little sawdust gets mixed in with their whiskey, and that looseness spreads a freewheeling flavor over the dozen tracks on Mean Scene. Trash-can percussion and second-line horns adorn the lazy shuffle of "Get Behind the Wheel," and the electric fuzz of "All the Little Days" proves that the band doesn't play it straight even when plugged in.  In fact, the only constant across these songs is that Wilson's intuitive guitar playing — bluesy, jazzy, soulful and twangy — is tough to pin down. He's a stylist who has ingested decades worth of popular (and unpopular) music, and he and his equally flexible bandmates spit these influences back out in familiar but thrilling fashion.

---

Saturday, November 23rd, 8pm & Sunday November 24th, 2pm (MATINEE), $10/15: The Road Apples Ride Again
Thayne Bradford, John Jump, Bob Breidenbach, Fred Gumear, and Ed Cabanas, original members of the early Road Apples, ride again for TWO shows this November! Join them for an evening and an afternoon of original and Americana roots music.  These accomplished musicians each perform with a number of different groups and are among the most well-known and respected in the area.  Expect to hear a lot of great music and enjoy the camaraderie of these long-time friends.
Saturday, November 23rd, 8pm

Sunday, November 24th, 2 pm (MATINEE)

---

Wednesday, November 27th, 7:30pm (Doors 6:45), $25/30: Songbird Cafe
The Burney Sisters
Sheena Persons and Sheila Rochelle (AKA Missouri Mile)

---

Friday, November 29th, 8pm, $10/15: Focal Point Friends of Traditional Jazz, Blues & Ragtime Present: Annie & The Fur Trappers Vinyl Release Party
Annie and the Fur Trappers is a St. Louis traditional jazz and blues band which formed in 2016. The band includes clarinet, trumpet, trombone, tuba, banjo, guitar, piano, washboard, and saxophone.  Annie and the Fur Trappers is dedicated to performing and preserving the music of the 1920s and 30s today.  The band plays traditional jazz, delta blues, ragtime, and swing music.  Their version of "Delta Bound" was selected to be displayed at the Mississippi Arts and Entertainment Experience in Meridian, Mississippi.  Annie and the Fur Trapper's original song "You Break It, you Buy It" was selected for the St. Louis Blues Society's 17 in 17 compilation album.  Annie and the Fur Trappers have performed at a variety of music festivals including the Big Muddy Blues Festival, The Whitaker Jazz festival The Apple Butter Festival, HONK!TX, Musikfest, The Cherokee Street Jazz Crawl, and The Rosebud Cafe Music Festival, to name a few. 
            The band is excited to be celebrating the release of their second studio album, Muskrat Ramble, on vinyl.   The album was recorded, mixed, and mastered by Paul Niehaus IV at Blue Lotus Studios.  The album includes a number of blues, traditional jazz, and swing favorites.  The vinyl was pressed by Standard Vinyl.

---

Saturday, November 30th, 8pm, $10/15: The Gordons & The Dust Covers
We, Gary and Roberta Gordon formed our mission in 2011 when our friend and neighbor Vic Hamer came to our music store selling African jewelry.  There was no turning back when we saw the tears in his eyes.  "Give Me Water Lord" is a tiny totally non-profit organization with only 6 board members who are self-appointed servants of humanity. There is absolutely no middle man, any and all kind donations of directly to drill water wells in desperate areas in Kenya.  Drilling can exceed 300 feet through granite with average cost of $25,000.00 for drill bits, casing, pump and protective well house. Vic Hamer personally oversees the drilling to insure no funding is misused. "Give Me Water Lord" was recognized by the Federal government to be tax exempt and through kind donations we have drilled wells in Kasarani (2012), Kisumu (2013), Kitengela (2014) and Kima (2016).  
In 2014 we also began a "Dairy Cow Project" buying a pregnant cow giving to a school who cares for the cow. The school can use the milk and also sell it to cover school fees for orphans or handicapped children. The calf when born is then given to another school.  A children's feeding program was started in 2015 where 250 children receive one meal a day. There are countless orphans.  Some parents simply cannot care for them and give them to orphanages.  In 2015 a "School Sponsorship Program" was started to pay school fees for 23 children since that time.  We provide corn shellers, inoculate cattle and help anyone in our path when on well drilling missions. Everyone in Kenya is in need but we can help many with clean water.  Please help us drill our next 2 wells in Narok and Ambosela in the next 2 years hopefully.
Sincerely, Gary and Roberta Gordon
The Gordons:
Influenced by the great music of their era, this husband and wife duo were baptized by bluegrass music and have made wonderful folk music ever since.  Accompanied by Gary's tasteful Gallagher guitar and dobro Roberta plays the American born Appalachian Autoharp.  With many recordings to their credit since 1976 harmony singing is their signature. 
The Dust Covers:
With the tempo of a train, the chill of its breeze, and the rumble of its momentum this locomotive of a of a band summons the excitement and energy of early blues and old-time.  On the life long journey of finding and sharing, not only the intersection but, the road shared by these two genres The Dust Covers harken to sounds pre-recorded music.  Their ruckus resonators and gentle touch weave splendidly through their vocals and harmonies.

---

Sunday, December 1st, 7:30pm, $15/20: Focal Point Friends of Traditional Jazz, Blues & Ragtime Present: Todd Albright
Todd Albright is a country blues twelve-string guitar player and vocalist based in Detroit, Michigan.  Grounded in the pre-war era of the blues tradition (1880-1939), Todd is a mindful purveyor of blues history.  His repertoire upholds musical pillars such as Blind Willie McTell, George Carter, Blind Lemon Jefferson, and Leadbelly.  His life's work continues the distinguished tradition of the very roots of American music as told by the African-American musicians who created it. 
Todd's vigorous, gritty, and soulful performances are accompanied by stories of the masters and a deep intuitive sense of respect for craft, providing audiences with a meaningful experience while creating a transcendent moment.  One of the top blues guitarists in the world, Todd is the only contemporary twelve-string player in his genre.
Todd began playing the blues while still a teenager, some twenty-five years ago.  Initially, he was drawn to the sound of the finger-picked style and has since immersed himself in the foundational music and narratives of American culture.  Over the years, Todd has shared the stage with artists such as Roy Book Binder, Charlie Parr, Paul Geremia, and Dakota Dave Hull. 
Todd's first full-length LP, Fourth Floor Visitor, was released by Jett Plastic Recordings out of Detroit, Michigan in 2017.  His latest album, Detroit Twelve String: Blues & Rags, is out now on Third Man Records (2017). 

---
Friday, December 6th, 8pm, Saturday, December 7th, 8pm & Sunday December 8th, 2pm (MATINEE), $10/15: Rough Shop Annual Christmas Extravaganza
Description coming soon!
Friday, December 6th, 8pm

Saturday, December 7th, 8pm

Sunday, December 8th, 2 pm (MATINEE)

---
Friday, December 13th, 8pm, $15/20: Dave Black & Sandy Weltman 3rd Annual Holiday Show
Description coming soon!

---

Saturday, December 14th, 8pm, $12/15: Jake's Leg 8th Annual Holliday Show
Description coming soon!

---

Friday, December 20th, 8pm, $10/15: The Joe Park Trio Plays The Music of Wes Montgomery
Joe Park has become a regular at the Focal Point over the last few years.  Park hosts the Annual Django Guitar Summit each August where he brings together some of St. Louis' finest guitarists to perform together in the style of the great Django Reinhardt.  This December The Joe Park Trio will be paying tribute to another iconic jazz guitarist: Wes Montgomery.  Universally acknowledged as one of the greatest guitarists in the history of Jazz, Montgomery virtually defined modern jazz guitar in the 1950s and 60s.  The Joe Park Trio is: Joe Park on guitar, Guy Cantonwine on bass, Drew Weiss on drums.

---

Saturday, December 21st, 2pm (MATINEE) & 8pm (EVENING), $10/15: The Wee Heavies Christmas Show
Description coming soon!
Saturday, December 21st, 2 pm (MATINEE)

Saturday, December 21st, 8pm (EVENING)

---

Friday, December 27th, 8pm, $10/15: Focal Point Friends of Traditional Jazz, Blues & Ragtime Present: TJ Muller Third Annual Holiday Show
Description coming soon!

---

Saturday, December 28th, 8pm, $10/15: An Evening with Ryan Koenig: Releasing the Focal Point Recordings Volume 2: Ryan Koenig & The Goldenrods
Description coming soon!

---

Wednesday & Thursday, February, 26th & 27th 7:30pm, $30/35: Lunasa
We, at The Focal Point, highly suggest that you do not miss this opportunity to hear, listen-to and see Lunasa up close and personal . Kick off the coming of Spring (as well as St.Pat's season) with a traditional BANG!  There are only 110 seats and there isn't a single bad spot in the house. Get tickets as soon as you read this. Because they will be gone in a blink of an eye .
Lúnasa is composed of Kevin Crawford (flutes, low whistles and tin whistles), Trevor Hutchinson (double bass), Ed Boyd (guitar), Seán Smyth (fiddle and low whistle) and Cillian Vallely (uilleann pipes and low whistle).
The band is internationally acknowledged as being the finest traditional Irish instrumental outfit of recent times. They are renowned for their stunning shows honed by superb musicianship and a constant touring cycle. They have performed over 1,500 shows across 36 countries since they formed in 1997. Lunasa has appeared at internationally renowned venues such as The Hollywood Bowl, National Concert Hall (Dublin), Sydney Opera House and Moscow International House of Music. They have been invited to appear at the White House.
Their inventive arrangements and bass driven grooves have steered Irish acoustic music into surprising new territory. The recordings have been hailed as some of the best and most important world music albums anywhere, while their blend of intelligence, innovation, virtuosity, and passion has brought them to the forefront of Celtic music.
Of the band, legendary Irish fiddler Kevin Burke says, "Maintaining the unique, intimate qualities of a musical tradition while at the same time meeting and fulfilling the demands of the contemporary music world is a difficult juxtaposition to achieve, yet Lúnasa have managed to accomplish exactly that." 
Wednesday, February  26th, 7:30 pm

Thursday, February  27th, 7:30 pm

---
Coming in 2019:
January, 3rd: Keltic Reign
January, 10th: Jack Grelle
January, 17th: Missouri Breaks
January, 18th: Bob Bovee*
January, 24th: Sam Golden
February, 8th: Focal Point Benefit
February 14th: The Chimps Valentines Day Show
February 15th: Switchback FULL 5 PIECE BAND (Album Release Show)
February 21st: Joe Park & The Hot Club of St. Louis**
March 6th: Riverbend Bluegrass*
March 14th: Eileen Gannon & Eimear Arkins Annual St. Patrick's Day Show
March 20th: Nick Gusman
March 28th: Spencer and Rains*
April 4th: Buddy Mondlock
April 17th: Dana Cooper
April 19th: John McCutcheon!
April 24-26: 22nd Annual Tionol 
May 15th: Manus McGuire
May 23rd: Colon Sphinctor Band Reunion Show
July 25th: 7th Annual Guitar Summit
August 7th: Greg Silsby & Mike Zanger
August 28th: 3rd Annual Django Guitar Summit – Joe Park and Friends**
December 26th: An Evening with Ryan Koenig: Releasing the Focal Point Recordings Volume 3
*Presented by Focal Point Friends of Old-time Music
**Presented by Focal Point Friends of Traditional Jazz, Blues & Ragtime