All our ticket prices are discounted $5 for advance purchases.  For example, $10/$15 means ten dollars in advance or fifteen dollars at the door. Unless otherwise specified, advance tickets are available until noon on the day of the concert for evening shows, and 10AM on the day of the concert for Matinee shows, at brownpapertickets.com.  For any difficulties with online purchases, please call 1-800-838-3006.
DOORS OPEN 30 MINUTES PRIOR TO EACH SHOWTIME
---

Wednesday, May 22nd, 7:30, $15/$20: Songbird Cafe
Andy Ploof
Adam Reichmann
John Wendland
Steve Dawson
Doors 6:45PM Show 7:30PM

---

Friday, May 24th, 8pm, $12/15: John McClellan
John McClellan is one of America's most respected performers, teachers, writers and DVD film producers. He has been heard internationally with the Hanser-McClellan Duo, most notably on multiple GFA Guitar Conventions to great acclaim. In October, 2018 he will be guest lecturer at the Paris Conservatory. Recently serving in residency at the Bordeaux Conservatory in March, 2018. This past summer his final book on the music of Chet Atkins (Chester Atkins The Radio Years) was premiered to critical acclaim. He was the 1996 Director of the Guitar Foundation of America's International Festival in 1996 and the co-founder of the Mid-America Guitar Ensemble Festival. He is head of Classical Guitar studies at Webster University in St. Louis, Missouri. His best selling books and DVDs on Chet Atkins and Argentinean legend, Jorge Morel are consistent best sellers. His musical collaborations include: Mark Knopfler (Dire Straits), Vince Gill, Jazz legend, Martin Taylor, Tommy Emmanuel, Janis Ian, Luciano Pavoratti, Suzy Bogguss, The Los Angeles Guitar Quartet, Jorge Morel, Brent Mason and many others. He has performed internationally in Australia, North America, France, Germany and Belgium. In the summer of 2015, he taught in southern France and performed with his friend and colleague, Olivier Chassain. He also recently produced Maestro Chassain's new CD composition JARDINS SECRETS – The Music of Olivier Chassain. Future endeavors include producing and recording in duo with Olivier Chassain, the music of Ida Presti.

---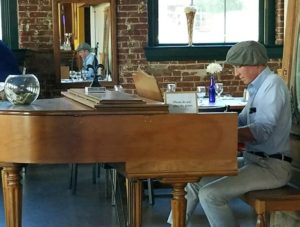 Cancelled – Saturday, May 25th, 8:00pm, $15/$20: The Duke's Ambassadors: Duke Ellington's 120th Birthday: Ellington Plugged In 
Happy Birthday to the legend. Join four of St. Louis' finest jazz musicians as they honor one of the true titans of jazz, Duke Ellington. It is in honor of his great genius that The Focal Point & The Duke's Ambassadors are proud to present the second annual Duke Ellington Birthday Celebration Concert.  Duke was positively electric in his music and influence on jazz; Christopher Parrish is proud to present a night of all electric instrumentation, something rarely heard in conjunction with Duke's popular music and in a small-group setting. The members of the Christopher Parrish Quartet will be announced late February.
Christopher Parrish (Jazz Pianist/Band Leader):
Christopher prides himself on his virtuoso technique, power and breadth as an improviser. Speaking in terms of genre, his greatest passion lies not in any one style of jazz but in the components of jazz music itself. Christopher comes from a highly musical family. Although he hated the idea of formal piano lessons as a child, he took to teaching himself with obsessive determination. Originally from Indiana, he moved to St. Louis in 2017 to further his career in music. Both fiery and contemplative, his playing is often characterized by dramatic changes in mood and texture. In addition to his solo playing around the St. Louis area, Christopher is excited for the 2nd Annual Duke Ellington birthday show here at the Focal Point in April; The Focal Point is delighted to welcome him back!
ALL TICKETS WILL BE REFUNDED
---

Friday, May 31st, 8pm, $12/15: Lonesome Pines
Lonesome Pines … have been performing Americana, traditional country, and bluegrass for over 40 years to crowds large and small. All the musicians in the band are outstanding professionals with accomplishments in the music field in groups such as the Road Apples, Vince Gill, Tim O'Brien, the Western Satellites, the Orbits, Son Volt, Bluegrass Alliance, and many more. With a focus on authenticity and respect for the traditional sound, The Lonesome Pines are energetic, soulful, and fun. The standards and classics are rendered in beautiful arrangements and improvisation with tight vocal harmonies. Thayne Bradford (fiddle and mandolin), Bob Breidenbach, (Dobro and lap steel), Vince Corkery (upright bass), Gary Hunt (guitar), and Bill Cross (banjo).

---
Saturday, June 1st, 8pm, $15/20: Anne Hills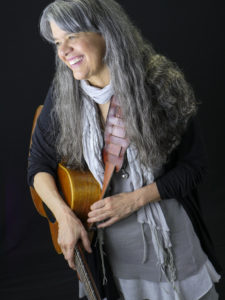 Anne Hills is one of the most beloved voices of the contemporary folk music scene, receiving awards and recognition for her live performances, her unique solo and collaborative recording projects, and her overall artistry and benefit work. Her song "Follow That Road" was the title cut of the Martha's Vineyard Songwriter Retreat and has been a certified folk classic since the late 1990s. Whether she is singing her own songs, the words of six-year-old Opal Whiteley, or her song settings of the Hoosier poet James Whitcomb Riley; accompanied with her guitar, banjo, or simply a Tibetan bell, she puts her whole heart and soul into the moment. You won't want to miss a chance to hear her songs and stories in person. She tours extensively, winning over audiences with her warm, lively and humorous performances.  The AllMusic Guide says, "A stunning soprano tone has made Anne Hills one of contemporary music's premiere vocalists … Her knack for writing heartfelt songs [has] brought her to the upper echelon of her craft." and Tom Paxton says, "Anne Hills is such an exquisite singer that it's understandable that people might be swept up in the pure beauty of her voice and thereby overlook her writing. That would be a mistake. For me, Anne's writing, in songs like 'Follow That Road' and many others, is as direct, melodic and deep as any work being done today. She is quite simply one of my absolute favorite songwriters." Hear more from Anne at: www.annehills.com.

---

Friday, June 7th, 8pm, $15/20: Richard Smith
When Richard Smith picks up a guitar, its a treat for the ears and the eyes. Audiences watch in amazement while his fingers dance over fretboard and strings, and listen in delight, as melody and groove fill the room.  It's a natural gift for him and we are delighted to have him back in St. Louis. While Richard really has a style of his own, you'll likely be treated to his very authentic renditions of tunes by a few of his old friends Chet Atkins and Jerry Reed as well as tunes reminiscent of  Django Reinhardt, Joe Pass, Doc Watson, Newgrass Revival, Albert Lee, Jorge Morel, and others of their caliber.  Believe us, this man is a guitar shark with very sharp teeth.  You DON'T want to miss this one!

---
Saturday, June 8th, 8pm, $12/15: The Tom Hall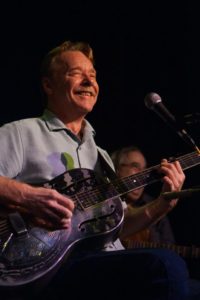 Tom Hall has been undisputed occupant of first chair in every band hes played in, whether its the Geyer Street Sheiks, River City Rhythm, The Illusions, The Fighting Molly McGuires, or any of the others. Of course, the respect he now enjoys didn't just fall into his lap; in the thirty-plus years hes been a working professional, Tom's paid his dues with interest, playing on street corners, festivals, bars, and concerts across the continent, Ireland and Europe.   Tom's music was originally based on blues mentors Mississippi John Hurt, Robert Johnson, Blind Blake, and Rev. Gary Davis, to name only a few.  He has since broadened his repertoire to include eclectic finger-style guitar, clawhammer banjo, and Irish tenor banjo alongside his mastery of resophonic guitar.   Tom's playing has brought him acclaim from appearances on National Public Radios Good Evening America with Noah Adams to the stages he's shared with The Neville Brothers, Count Basie, Lightin Hopkins, Albert King, Guy Clark, and many others.

---

Friday, June 14th, 8pm, $15/20: Focal Point Friends of Old-Time Music Present: River Bend
Formed in 2015 in the heart of the Midwest, River Bend is a traditional bluegrass band that is dedicated to the performance and preservation of the high-lonesome sound.  With soaring tenor harmonies, driving instrumentation, and the classic bluegrass groove, this group recalls the voices of Bill Monroe, the Stanley Brothers, Vern Williams, Red Allen, and more.  Those looking for the authentic true grass experience reflecting the sounds of the early days of bluegrass and a simpler life will not want to miss this show.

---
Saturday, June 15th, 8pm, $15/20: Pasty O'Brien and Dick Hensold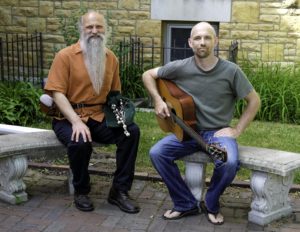 Patsy O'Brien, from County Cork, is a fine traditional singer, and a superb guitarist for traditional music, but with an eclectic technique that allows forays into many different styles.  He is also an awarded songwriter.
Dick Hensold is the leading Northumbrian smallpiper in North America, and for the past 20 years has performed and taught in England, Scotland, Japan, Canada, and across the United States. His solo Northumbrian smallpipes CD, "Big Music for Northumbrian Smallpipes" was released in 2007.
A concert of traditional Celtic music, but with unique and innovative arrangements, including a variety of songs from Britain and Ireland, accompanied by guitar and Northumbrian smallpipes (a quiet bagpipe from Northeast England), or various whistles. It also features traditional and historical tunes from Cape Breton Island, Scotland, Ireland and Northumberland, with a good measure of original music in the traditional style. As well as a broad range of styles of Celtic music, this program also features an impressive range of expression, from the jaunty and humorous to soulful, led by Patsy's warm and multi-colored baritone voice, Dick's variety of pipes and whistles, and the nimble instrumental virtuosity of both musicians. Please note that NONE of these instruments are very loud.

---

Friday, June 21st, 8pm, $12/15: Focal Point Friends of Traditional Jazz, Blues & Ragtime present: A Tribute to Jelly Roll Morton: The Gaslight Squares with special guest pianist Kris Tokarski
Join The Gaslight Squares with special guest pianist Kris Tokarski (NOLA) for an evening honoring the music of Jelly Roll Morton.  If you are already a fan of Jelly Roll Morton, then expect to be thrilled by Tokarski's expert renditions of Morton favorites.  If you are unfamiliar, then come learn the story of one of America's most prolific and influential early jazz composers. T.J. Müller (cornet/trombone), Ryan Calloway (clarinet/alto sax), Jacob Alspach (banjo/guitar), and more talented traditional jazz musicians will be on stage performing their takes on classic Jelly Roll Morton compositions and entertaining the audience with 'red hot' solos!

---
Saturday, June 22nd, 8pm, $/: Jake's Leg
Jake's Leg's annual summer solstice show has become a Focal Point tradition.  Spanning the generations, Jake's Leg has been performing the music of The Grateful Dead for 43 years. (That's only 11-ish years less than the Dead played Dead themselves!) This will be an acoustic performance. ALSO, the show will likely not be the perfectly silent listening experience we are known for, however, we promise that it will be great fun for all.  Dancing recommended but not required.
---

Thursday, June 27th, 7:30, $23/$28: Songbird Cafe
Chris and Adam Carroll
Doors 6:45PM Show 7:30PM

---
Friday, June 28th, 8pm, $12/15: Kevin Buckley
While no stranger to the Focal Point stage, Kevin Buckley makes his solo debut on June 28th. Armed with a variety of stringed instruments including guitars, fiddles, bouzoukis and mandolins, Buckley brings his interpretations of folk and modern tunes, original compositions from the Grace Basement catalogue as well as a collection of new material tailor made for this intimate setting.

---

Saturday, June 29th, 8pm, $12/15: Ethan Leinwand Duos
Ethan Leinwand is a St. Louis-based barrelhouse blues pianist and preservationist. A student of the music's rich history and varied regional styles, Ethan presents personal interpretations of many of the great (and forgotten) old-time masters. He specializes in St. Louis pre-war piano blues, Texas barrelhouse, Deep South barrelhouse, early Chicago boogie-woogie, and good-time hokum stride.  His influences include: Jimmy Yancey, Henry Brown, Little Brother Montgomery, Peetie Wheatstraw, Aaron Pinetop Sparks, Albert Ammons, Black Bob, Cooney Vaughn, Professor Longhair, and Carl Sonny Leyland.  Originally from Middletown, CT, Ethan has spent time living in New Orleans and Brooklyn.  He moved to St. Louis in the summer of 2014, and, connecting with the city's thriving blues community and its deep piano blues heritage, he quickly became a mainstay.  For this very special show Ethan will play half a set each with: The Tom Hall, Mat Wilson, Val Kirchhoff (Miss Jubilee), and Nick Pence.  Don't miss this very special show.

---

Wednesday, October 16th, 7:30pm, $25/30: Focal Point Friends of Old-Time Music Present: Larry Sparks and the Lonesome Ramblers
Larry Sparks is a dedicated leader in the field of bluegrass music and is among the most widely-known and respected touring musicians in bluegrass and gospel music today. Larry began his career in the mid-1960"s as guitarist with the Stanley Brothers and later became lead vocalist for Ralph Stanley and the Clinch Mountain Boys. Larry went on to form his own band in 1969 (The Lonesome Ramblers) and over the years he has released many albums, delighting countless fans with his soulful vocals and unparalleled musicianship. This year he will be celebrating 50 years with Larry Sparks & The Lonesome Ramblers. 
Among the many prestigious venues Larry has performed are the Grand Ole Opry, Austin City Limits, and many other PBS appearances. He and the Lonesome Ramblers have toured extensively throughout the United States, Canada, and Japan.
Larry has been recognized as the International Bluegrass Music Association's Male Vocalist of the Year. Larry was also awarded Album of the Year and Recorded Event of the Year with his album Larry Sparks 40 featuring several artists such as Alison Krauss, Vince Gill, Ralph Stanley, Ricky Skaggs, Tom T. Hall and many more. In addition, Larry received the honor of being inducted into the Bill Monroe Bluegrass Hall of Fame. He has also been inducted into The George D. Hays (founder of the Grand Ole Opry) Hall of Fame. Larry was inducted into the International Bluegrass Music Association's Hall Of Fame October 1st 2015. 
Larry's 50th Celebration CD in bluegrass music was released August 5th 2014 and features bluegrass legends Ralph Stanley, Curly Seckler, Bobby Osborne, Jesse McReynolds, Alison Krauss and Judy Marshall. The single from the CD titled Bitterweeds went to number one on Blue Grass Today AirPlay Direct. His latest CD is Larry Sparks Vintage.  
Throughout his long career Larry has stuck with what works. He has followed his vision and he has made an enormous contribution to the music. Larry Sparks has kept his music real. 

---
July 2019 & Beyond:
July 5th: Rum Drum Ramblers
July 6th: Big Mike Aguirre Blues Showcase
July 12th: An Evening with Erin Bode
July 19th: Short Round String Band (Album Release)*
July 20th: Ricky Nye**
July 26th: Roy Bookbinder**
July 27th: St. Louis Guitar Summit (Dave Black, Brian Curran & The Tom Hall)
August 9th: Adam Tanner
August 16th: Joe Park and friends 2nd Annual Django guitar Summit with Gary Hunt, Paul Davis & Eric Slaughter***
August 17th: The Chicago Cellar Boys***
August 23rd: Rudy Torrini Swing Project***
August 24th: Clint Baker: A Tribute to the Cornet Kings of New Orleans (Featuring T.J. Muller & Wild Bill Mason)***
August 30th: Miss Jubilee***
August 31st: Shakem Up Jazz Band Night 1***
September 1st: Shakem Up Jazz Band Night 2***
September 6th: Pappy with a Hatchet
September 7th: The Arcadia Dance Orchestra (Seated Show)***
September 8th: The Arcadia Dance Orchestra (Dance Show)***
September 13th: The Creek Rocks*
September 27th: Pete Morton
September 28th: Brian Mcneil
October 5th: HigLeeWils (Emily Higgins, Larry Lee, and David Wilson)
October 11th: John Batdorf
October 19th: Letho & Wright
October 26th: Dennis Stroughmatt et l'Esprit Creole
November 3rd: The Baker Family*
November 8th: Rogers and Nienhaus
November 22nd: Rum Drum Ramblers
November 23: The Road Apples Ride Again
November 24: The Road Apples Ride Again (2pm matinee)
November 29th: An Evening with Nick Pence
December 6th: Roughshop Christmas Extravaganza Night One
December 7th: Roughshop Christmas Extravaganza Night Two
December 8th: Roughshop Christmas Extravaganza Sunday Matinee
December 13th: Farshid Soltanshahi, Dave Black & Sandy Weltman 3rd Annual Holiday Show
December 14th: Jakes Leg 8th Annual Dance Party
December 27th: T.J. Muller**
December 28th: An Evening with Ryan Koenig
*Presented by Focal Point Friends of Old-time Music
**Presented by Focal Point Friends of Traditional Jazz, Blues & Ragtime
***Third Annual Focal Point Traditional Jazz Series