All our ticket prices are discounted for advance purchases.  For example, $10/$15 means ten dollars in advance or fifteen dollars at the door. Unless otherwise specified, advance tickets are available until noon on the day of the concert for evening shows, and 10AM on the day of the concert for Matinee shows, at brownpapertickets.com.  For any difficulties with online purchases, please call 1-800-838-3006.
DOORS OPEN 30 MINUTES PRIOR TO EACH SHOWTIME
---

Friday, August 9th, 8pm, $12/15: Adam Tanner
Adam grew up in northern California and was exposed to early blues, old-time, and bluegrass music in his early teens.  Proficient on fiddle, mandolin, and guitar, he spent countless hours slowing down records trying to catch every detail of the traditional music he loved.  Over the last twelve years Adam has toured both the US and Europe as a member of The Crooked Jades, The Hunger Mountain Boys, and The Twilite Broadcasters.  Adam teaches private lessons from his home and has been on staff at The Swannanoa Gathering music camp for the last eight years, and he is currently on the faculty of the Bluegrass, Old Time, and Country Music program at East TN State University, and so far has produced eight recordings of traditional music.
Adam Tanner will present an evening of traditional American music in two parts: the first half of the evening will feature Jim Nelson joining Adam on guitar to play old-time fiddle tunes and songs from locations all over America including Tennessee, Alabama, Texas, Kentucky, and North Carolina along with a handful of mandolin tunes composed by Bill Monroe. In the second half of the evening, Valerie Jo Kirchhoff and Ethan Leinwand will join Adam to play some great blues from the 1920s and 30s.

---

Sunday, August 11th, 1:30pm MATINEE, $15/$15: Brian Curran CD Release
Come help us celebrate the release of Brian Curran's new CD By Myself Alone!   Brian will be performing the entire song list from the disc as well as his favorite originals and covers.  Part of the ticket sales will be donated right back to The Focal Point!  So come show your support for one of your favorite local musicians and one of your favorite venues in St. Louis in one day!  Admission will be $15.00, but if you pay $20.00, you'll get a copy of the new CD!

---

Friday, August 16th, 8pm, $12/15: Focal Point 3rd Annual Traditional Jazz Series: Joe Park and friends 2nd Annual Django Guitar Summit with Gary Hunt, Paul Davis, and Eric Slaughter
St. Louis-based jazz guitarist Joe Park brings together some of his favorite players for a tribute to the great gypsy jazz guitarist, Django Reinhardt. The musicians represent a variety of backgrounds, including modern jazz, Western swing, and gypsy jazz.  One thing they all have in common is a love for Django Reinhardt.  Guitarists include: Joe Park, Eric Slaughter, Gary Hunt, Paul Davis, and John Miller.

---

Saturday, August 17th, 8pm, $15/20: Focal Point 3rd Annual Traditional Jazz Series: The Chicago Cellar Boys featuring Roya Naldi
Formed in 2017, the Chicago Cellar Boys is a five-piece band specializing in the jazz and hot dance music of the 1920s and 30s. Comprising multi-instrumentalist Andy Schumm, reedman John Otto, pianist and vocalist Paul Asaro, banjoist and guitarist John Donatowicz, and tubist and bassist Dave Bock. In addition, singer Roya Naldi will be featured with the band for this concert! She specializes in songs and vocal style of the 1920s and 30s, captivating audiences with her passion, nuance, and energy. She appears regularly with the band in Chicago and around the Midwest. The Chicago Cellar Boys can be regularly seen playing for dances, parties, concerts, and other events. The band prides itself for its attention to detail and professionalism, and as such is at home in any situation.  

---

Friday, August 23rd, 8pm, $12/15: Focal Point 3rd Annual Traditional Jazz Series: Rudy Torrini Swing Project
Certain songs reach us at various points in our lives, carrying with them experiences that have an indelible influence on us.  Join St. Louis composer and musician Rudolph Torrini for a slice of his jazz influences from the 1920s through the 1940s, as played by the Rudy Torrini Swing Project! The Rudy Torrini Swing Project features Rudy Torrini on clarinet, Eric Slaughter on guitar, Mary Ann Schulte on piano, Kevin O'Connor on drums, and Jon Weiss on bass.

---

Saturday, August 24th, 8pm, $15/20: Focal Point 3rd Annual Traditional Jazz Series: Clint Baker: A Tribute to the Cornet Kings of New Orleans (Featuring T.J. Muller & Wild Bill Mason)
Multi-instrumentalist Clint Baker (San Francisco) is known internationally among traditional jazz fans as a prolific champion of New Orleans-style jazz music. Throughout his career he has worked alongside jazz greats such as Bob Helm and Big Bill Bissonnette, and as a younger musician he received advice and encouragement from Percy Humphrey (Preservation Hall/ Eureka Jazz Band).  Today, Clint Baker is a leading authority on the performance of New Orleans-style jazz and can be heard regularly at jazz festivals around the country as well as weekly in his hometown of San Francisco.  For his Focal Point debut he will lead the audience through an entertaining and educational evening discussing and performing the music of several influential New Orleans cornet players including King Oliver, Louis Armstrong, Bunk Johnson, and more! On stage he will be accompanied by a band including local jazz cornet legend Bill Mason (the St. Louis Ragtimers) and British multi-instrumentalist T.J. Muller.

---

Wednesday, August 28th, 7:30pm (Doors 6:45), $18/25: Songbird Cafe
Devin Cahill
Emily Wallace
Ryne Watts
Tommy Halloran

---

Friday, August 30th, 8pm, $12/15: Focal Point 3rd Annual Traditional Jazz Series: Miss Jubilee
Don't miss St. Louis' own Miss Jubilee ! Though they're one of our city's most recognizable bands, it's rare to hear them in a such quiet and intimate space!! And just In case you don't know about them:
Based in St. Louis, MO and led by powerhouse vocalist Valerie Kirchhoff, Miss Jubilee plays an energetic blend of low-down blues, hokum, and hot jazz from the 1920s and 30s. Their one-of-kind repertoire draws heavily from the female blues singers who helped define the genre. From Bessie Smith and Victoria Spivey, to the more obscure Merline Johnson and Lil Johnson, Miss Jubilee revives this music with a joy and effortless authenticity. In addition to Valerie, the band is fueled by a hard driving rhythm section led by barrelhouse pianist Ethan Leinwand and bassist Richard Tralles, and a gutbucket horn section led by Kenneth Cebrian (trumpet).

---

Saturday, August 31st & Sunday, September 1st, 8pm, $15/20: Focal Point 3rd Annual Traditional Jazz Series: Shake 'Em Up Jazz Band 
Since their formation in 2016, The Shake 'Em Up Jazz Band has enjoyed a steady stream of bookings at various New Orleans clubs and festivals, including Preservation Hall and the New Orleans Jazz and Heritage Festival. The band includes St. Louis favorite (and former Pokey LaFarge band member) Chloe Feoranzo on clarinet and vocals.  Chloe and her quartet sold out their Focal Point Friends of Traditional Jazz, Blues, and Ragtime show earlier this year.  Also featured is Marla Dixon on trumpet and vocals  (Marla is also the leader of the Shotgun Jazz Band; Shotgun headlined our inaugural jazz series in 2017).  Additionally, the band includes: Molly Reeves on guitar and vocals, Haruka Kikuchi on trombone, Julie Schexnayder on bass, and Defne 'Dizzy' Incirlioglu on washboard.  Last year, the band headlined Focal Point's Second Annual Jazz Series and sold the room to absolute capacity; crowds of people who missed out on tickets listened from the street.  In a response to last year's huge demand, we are excited to welcome The Shake 'Em Up Jazz Band back to our stage for TWO performances. Get your tickets early as we expect both shows to sell out!
Tickets Night 1: Saturday, August 31st

Tickets Night 2: Sunday, September 1st

---
Friday, September 6th, 8pm, $12/15: Keeping' It Reel: Kevin Buckley & Ian Walsh
Join Ian and Kevin at the Focal Point for an evening of traditional Irish, Old Time, Bluegrass and who knows what on Friday, September 6th.

---

Saturday, September 7th, 8pm, $15/20: Focal Point 3rd Annual Traditional Jazz Series: The Arcadia Dance Orchestra
The Arcadia Dance Orchestra (TADO) is an eleven-piece jazz band which performs the music of the 1920s-30s.  Led by local bandleader and multi-instrumentalist T.J. Muller, TADO was formed in early 2017.  The group consists of many young talented musicians, enthusiastic about re-creating the wonderful music of the jazz age on an array of instruments including piano, a full authentic 1920s drum set, reeds from soprano to bass sax, trumpets, trombones, violin, banjo, and more.  On an average gig the band will play a mixture of familiar 1920s tunes transcribed from records, such as East St. Louis Toodle-oo by Duke Ellington, as well as performing period stock arrangements of the era, such as you might have heard in dance halls of the time. TADO also performs original arrangements of 1920/ 30s classics, and proudly performs St. Louis arrangements, taken from 78RPM records of 1920s bands recorded right here in St. Louis almost 100 years ago.
Tickets Night 1: Saturday, September 7th (Seated Show)

Tickets Night 2: Sunday, September 8th (Dance Show)

---

Thursday, September 12th, 7:30pm, $15/20: Billow Wood
Billow Wood are a band from the West of Ireland nestled along the wild Atlantic way.  The group have been surrounded by and brought up on folk and traditional music from very young ages.  Their energetic live performance can be attributed to playing in family bands growing up.  Now, the internationally-recognized band fuse folk, indie, pop, and rock to create a new, unique sound and look to showcase their original music worldwide.
After a very exciting year 2018 touring Ireland, Europe, and North America, Billow Wood are gearing up for a bigger 2019: last year, the group spent six weeks touring in North America with support from Culture Ireland. Recently, Billow Wood produced their own show in one of Ireland's prestigious music venues, Whelan's Music Venue, Dublin.  The group have just returned from a very successful month-long tour with Irish HeartBeats.  2019 will also see the release of new music which the group are looking forward to sharing with audiences at various festivals and events throughout Ireland and Europe. 
The group bring a fresh, unique fusion of indie-folk-trad-pop to the stage and their original music is being played on various radio stations (national and international), with recommendations from Joe.ie (Songs of the Day), HotPress Magazine (Bands to Keep Eyes and Ears on), Today FM, and many more (see website).
Website:

---

Friday, September 13th, 8pm, $15/20: Muriel Anderson
An exciting concert by guitarist and harp-guitarist Muriel Anderson as she debuts new tunes for her "Acoustic Chef" project!
Muriel's obvious joy of music, humor and her facility across the genres of folk, classical, bluegrass, popular and international music is revered by guitarists worldwide. An engaging performer, her unique approach to the instrument virtually transforms the guitar into a lyrical choir, then a marching band, then a Bluegrass band, before launching into a Beatles classic. Muriel will be coming to St Louis en route as a featured performer at the National Fingerstyle Guitar Championship, where she was the first woman to win in 1988. She founder of the MUSIC FOR LIFE ALLIANCE, supporting music education for kids. 100 percent of ticket proceeds will go toward medical expenses for a St Louis friend who has done much volunteer work for the MFLA charity.

---

Saturday, September 14th, 8pm, $10/15: Ivas John and The Gordons with special guest Ross Sermons
Ivas John is no stranger to music fans in St. Louis.  For over a decade, The Ivas John Band has continued to perform their brand of electric blues, heading many major music events and festivals.  In 2015, with the release of Good Days a Comin, Ivas added a new dimension to his music and his vast fan base was happy to follow.  As a great singer, songwriter, and guitarist he dove deep into polishing his acoustic side, collaborating for duets with Gary Gordon on dobro, multi-instrumental virtuoso Robert Bowlin, and St. Louis blues purist Brian Curran.  Ivas took to traditional country blues and folk music like a duck to water, embracing the influence of past masters while carving out an unmistakable style all his own.  His album hit number one on the folk radio charts and his live performances continue to win over both critics and fans with ease in acoustic music circles.
The Gordons are a husband-and-wife duet from Southern Illinois who have performed together since 1974.  Their reputation has been cemented with over a dozen LPs and CDs and numerous radio shows and television appearances.  They have performed their brand of folk music throughout the U.S., Ireland, the U.K., the Netherlands, Belgium, and the Czech Republic.  Their original songs coax the listener to look at life and love themselves.  "With their warm glowing harmonies and impeccably uncluttered picking, The Gordons bring to mind the most listenable of all bluegrass bands, Flatt & Scruggs." (Billboard Magazine)
Ross Sermons was born and raised in Hickory, North Carolina, where the babies cut their teeth on musical instruments.  He wears the hat of bassist extraordinaire, be it electric or stand-up, and is accomplished at knowing and feeling all genres.  He has toured the world over many times, siding for a long list of many great artists.  Now residing on the island of Tasmania off of Australia's south coast, he works six months there and six months in the U.S.  The tilt of the earth's fair-weather axis brings him to the Focal Point to join The Gordons and Ivas John September 14th. Don't miss it!

---

Sunday, September 15th, 2pm, $12/15: Will Soll: A Yid in Amerika
Will Soll presents a solo program called "A Yid in Amerika," a musical and literary journey through American Jewish culture in the first half of the 20th century.  Highlights of the itinerary include American klezmer music, Yiddish theater songs, poets of the sweatshop, songs of Tin Pan Alley, Hamlet's "To Be or Not To Be" in Yiddish, a song by Eliza Greenblatt (Arlo Guthrie's grandmother), the story "On America" by Sholem Aleichem, and more.
Will is generously donating proceeds from this concert to The Focal Point; we are grateful for his kindness as well as for his talents!

---

Friday, September 20th, 8pm, $10/15: Sweetie and The Toothaches 
Sweetie and The Toothaches aim to please by bringing you the surefire authentic sights and sounds of the 1940s -1960s jump blues scene.  You'll laugh, you'll cry, and there's no doubt that you'll be moving your body when you hear the powerful vocals of Emilie "Sweetie" Richard and her sensational Toothaches!  Be prepared to be blown away as this Saint Louis show band hits you square in the mouth hole with their brand of sinfully sweet songs, hot and ready rhythms, heavenly harmonies, and savory solos! It's safe to say that after you get a taste of this full-bodied jump band, you'll be sure to leave with a permanent sweet tooth.  See you all on the boogie field!

---

Saturday, September 21st, 8:00pm, $15/20: Focal Point Friends of Old-Time Music Present: The Ozark Highballers
The Ozark Highballers are a four piece string band from Fayetteville, Arkansas.  Since 2014 the Ozark Highballers have brought their music to square dances, farmers markets, festivals, workshops, as well as plain old street corners and front porches. Their music reflects the spirit and drive of the rural Ozark string bands of the 1920s and '30s. This old-fashioned ensemble features the dynamic melody duo of Roy Pilgrim on fiddle and Seth Shumate on harmonica, accompanied by the intricate string tickling of Clarke Buehling on five-string banjo, and the driving chords and bass runs of Aviva Steigmeyer on guitar. The Ozark Highballers have performed and taught at the Brooklyn Folk Festival, Stepehen Foster Old-time Week,  Bluff Country Gathering, St. Louis Folk & Roots, CROMA,  Ozark Folk Center, and have recently received the Artist 360 grant from the Mid-America Arts Alliance.  
https://www.theozarkhighballers.com/bio 

---

Wednesday, September 25th, 7:30pm (Doors 6:45), $25/30: Songbird Cafe
Hope Dunbar
Clint Alphin
Pint & a Half

---

Friday, September 27th, 8pm, $15/20: Pete Morton
Certain writers and singers of folk songs have that combination of lyrical perspicacity and clear-sighted delivery that set them apart from all others, and the idiosyncratic Pete Morton is one of those.  At first, you might think Pete's songs are childlike, but he makes you hesitate before saying "It's NOT THAT SIMPLE!" (sometimes, yes it is that simple.)  His songs provoke thought, stimulate inspiration, and prompt revelation.  He delivers messages and explores themes that everyone can relate to and does it in a way that demands nothing more than turning your ear to his perfectly placed lyrics.  He has a wealth of great songs and a remarkable singing voice.  A compelling and energetic performer with roots in punk, Pete's songs have been described as an unruly mix of humour, politics, love, and social comment, always well-grounded in folk tradition.  Songs like 'Another Train' have become folk club standards and his performances are a joy.   It's been too long since Pete's last visit to the U.S.; we are delighted to welcome him back!

---

Saturday, September 28th, 8pm, $15/20: Brian McNeill
Brian McNeill is a Scottish composer, singer, songwriter, producer, author, and dynamite performer who has made a multitude of friends and fans here in St Louis!  Brian originally learned music on violin, but now plays fiddle, viola, mandolin, bouzouki, cittern, concertina, and hurdy-gurdy.  He played fiddle with Battlefield Band from its formation in 1969 until 1990.  
From 1996 until January 2008, Brian was head of the traditional music department at the Royal Scottish Academy of Music and Drama, Glasgow.  As a novelist he has published three books, The Busker (1989), To Answer the Peacock (1999), and In the Grass.  He has also produced an acclaimed audio-visual show about Scottish emigration to America, The Back o' the North Wind.  Brian's songs tend to get right to the point; they often feature lyrics based on Scottish historical themes, and he continually has celebrated the culture of his fellow Scots, including those who have emigrated to North America. 

---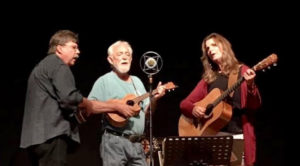 Saturday, October 5th, 8pm, $15/20: The HigLeeWils
Songwriters and musicians Emily Higgins, Larry Lee, and David Wilson are The HigLeeWils.
Emily Higgins is a songwriter, multi-instrumentalist, and member of both The HigLeeWils and Auntie Em and the Tornadoes.  The HigLeeWils currently perform songs from Emily's four solo albums, Singing River, The House at the End of the Road, On the Square and recently, 91 Acres, a commissioned collection of original songs describing the land reclamation efforts of a Douglas County, Missouri landowner and the beauty of the property.   Emily is producer and host of "The Mulberry Tree," a weekly music program airing Sunday evenings on KSMU, Springfield, Missouri's NPR affiliate station.
Larry Lee was a founding member of the Ozark Mountain Daredevils (writer and vocalist of "Jackie Blue"), and toured with Jimmy Buffet's Coral Reefer Band.   He has produced multi-platinum records for artists such as Alabama, Restless Heart, and Juice Newton.  Larry has also been inducted as a member of the Missouri Writers Hall of Fame.
David Wilson has produced, recorded for, or performed with some of acoustic music's veteran musicians and songwriters: Radio Flyer (1985 Bluegrass Band Winner at the KFC-City of Louisville Festival), John Hartford, Jean Ritchie, The Dillards, The Ozark Mountain Daredevils, Undergrass Boys, Blackberry Winter, Barton and Para, The Gallier Brothers, Brewer and Shipley, and other notable artists.  David also continues to teach fiddle and mandolin classes at numerous festivals around the country.
Together, The HigLeeWils deliver their original music with strong and true harmonies and natural musicianship to audiences who appreciate acoustic music delivered through the time-honored tradition of using a single mic.

---

Wednesday, October 9th, 7:30pm, $20/25: Focal Point Friends of Old-Time Music Present: Compton and Newberry: A Return to the Roots of Bluegrass
Mike Compton and Joe Newberry mine one of the more neglected segments of country music history: the period during the '30s and '40s when brother duet music was transitioning into what is known today as bluegrass.  Both masters of the bedrock instruments of old-time music, they collaborate with a vision that is both modern and ageless.  As virtuosos of old-time mandolin, banjo, and guitar, they dig deep into early country music and blues.  Given their seemingly limitless library of brother duets, audiences can expect to hear their favorite tunes along with traditional instrumentals, mother ballads, and award-reaping originals.  Their combined pedigree has enabled them to reach millions of people, including the more than four million regular listeners of A Prairie Home Companion and also the devoted fans of the Grammy Award-winning O Brother, Where Art Thou and Cold Mountain soundtracks.
"There are powerful people in every walk of life. Mike Compton is the General George Patton of the mandolin." – CyberGrass.com
Mike Compton is a Grammy Award-winning, IBMA Mandolin Player of the Year nominee, mandolinist for the Nashville Bluegrass Band, and longtime steady sideman to the late John Hartford.  He has entertained from Carnegie Hall to the White House — and lots of good folks' houses in between.  The New York Times calls him "a new bluegrass instrumental hero."  He has made music with such diverse notables as the iconic Dr. Ralph Stanley, British rock legend Elvis Costello, guitar virtuoso David Grier, and producer T-Bone Burnett.  He has performed on 100+ CDs in a variety of genres with some of the most beloved artists of our day.  At heart, Mike Compton is a preservationist, continuing the music that Bill Monroe innovated on the mandolin and which set the standard for two generations of bluegrass mandolin players.
"His lyrics read like a cross between Longfellow and Johnny Cash…The muse is sometimes gentle and other times rough. But she never strays too far from Joe Newberry's side." – Indyweek
Joe Newberry is a prizewinning guitarist, songwriter, and vocalist known far and wide for his powerful banjo playing.  He won the songwriting prize for "Gospel Recorded Performance" at the 2012 IBMA Awards for his song "Singing As We Rise", and was co-writer (with Eric Gibson) of the 2013 IBMA Song of the Year, "They Called It Music."  A longtime regular guest on A Prairie Home Companion, he was a featured singer on the Transatlantic Sessions 2016 tour of the U.K., and at the Transatlantic Session's debut at Merlefest in 2017.  Growing up in a family full of singers and dancers, he took up the guitar and banjo as a teenager and learned fiddle tunes from great Missouri fiddlers.  He moved to North Carolina as a young man and quickly became an anchor of the incredible music scene in the state.

---

Wednesday, October 16th, 7:30pm, $25/30: Focal Point Friends of Old-Time Music Present: Larry Sparks and the Lonesome Ramblers
Larry Sparks is a dedicated leader in the field of bluegrass music and is among the most widely-known and respected touring musicians in bluegrass and gospel music today.  Larry began his career in the mid-1960s as guitarist with the Stanley Brothers and later became lead vocalist for Ralph Stanley and the Clinch Mountain Boys.  Larry went on to form his own band in 1969 (The Lonesome Ramblers) and over the years he has released many albums, delighting countless fans with his soulful vocals and unparalleled musicianship.  This year he will be celebrating 50 years with Larry Sparks and The Lonesome Ramblers.
Among the many prestigious venues where Larry has performed are the Grand Ole Opry, Austin City Limits, and many other PBS appearances.  He and the Lonesome Ramblers have toured extensively throughout the United States, Canada, and Japan.
Larry has been recognized as the International Bluegrass Music Association's Male Vocalist of the Year.  Larry was also awarded Album of the Year and Recorded Event of the Year with his album Larry Sparks 40, featuring several artists such as Alison Krauss, Vince Gill, Ralph Stanley,    Ricky Skaggs, Tom T. Hall, and many more.  In addition, Larry received the honor of being inducted into the Bill Monroe Bluegrass Hall of Fame.  He has also been inducted into The George D. Hays (founder of the Grand Ole Opry) Hall of Fame.  Larry was inducted into the International Bluegrass Music Association's Hall Of Fame October 1st 2015.
Larry's 50th Celebration CD in bluegrass music was released August 5th 2014 and features bluegrass legends Ralph Stanley, Curly Seckler, Bobby Osborne, Jesse McReynolds, Alison Krauss, and Judy Marshall. The single from the CD (titled "Bitterweeds") went to number one on Bluegrass Today AirPlay Direct. His latest CD is Larry Sparks Vintage. 
Throughout his long career Larry has stuck with what works.  He has followed his vision and he has made an enormous contribution to the music.  Larry Sparks has kept his music real.

---

Friday, October 25th, 8:00pm, $12/15: The Creek Rocks
The Creek Rocks are a folk group from the Ozarks led by banjoist Cindy Woolf and guitarist Mark Bilyeu. These longtime musical collaborators worked together on Cindy's three CDs of original songs starting in 2005, they married in 2013, then established The Creek Rocks in 2015. Mark is a founding member of the populat Ozarks family band Big Smith, with whom he toured and recorded for sixteen years.
Their debut release, "Wolf Hunter," is an album of sixteen folk songs from the Ozarks, arranged by The Creek Rocks and gathered from the collections of folklorists Max Hunter of Springfield, Missouri (Mark's hometown) and John Quincy Wolf of Batesville, Arkansas (Cindy's hometown). Joining them on the album are bassist Jason Chapman of the Chapmans bluegrass band and percussionist Jay Williamson, also of Big Smith. Cindy and Mark sometimes enlist a a host of talented musician friends to back them up, but will be performing as a duo at their Focal Point debut.

---

Thursday, October 31st, 7:30pm, $15/20: Focal Point Friends of Old-Time Music Present: Molsky's Mountain Drifters
A laser-tight trio with an ear for lovely, lilting traditional melodies, Molsky's Mountain Drifters brings tradition steeped in possibility.  The grace and wisdom of longtime fiddle player and Grammy nominated multi-instrumentalist Bruce Molsky, Berklee College of Music's Visiting Scholar in the American Roots Program, described as "an absolute master" (No Depression), melds with the electricity of guitarist Stash Wyslouch and banjoist Allison de Groot to bring new ideas to traditional music. 
Allison de Groot is the kind of artist whose virtuosity is built on her strength as a player, performer, and composer, and is known for her "great clawhammer banjo technique, exquisite tone, timing, and taste.  She has deep roots in the old-time tradition and yet she's fearless when it comes to breaking new ground." (Tony Trischka)
Stash Wyslouch is one of bluegrass's great young genre-bending pioneers, "a brilliant and free-thinking mind." (Chris Eldridge, Punch Brothers)  Coming over from the punk-metal world, Stash brings great sensitivity and real emotion to the trio, plus superb guitar and vocal chops.
These striking musicians have come together for a new sound within the traditional music genre through their audacious approach. "I was looking for a new voice," says Molsky, "a new avenue of expression using old-time mountain music as the jumping-off point, but not being constrained by hardcore traditionalism. Allison and Stash are showing me the way, just where the music is headed, in directions I never would have imagined when I started my own journey into the mountains a long time ago." 

---
October 2019 & Beyond:
October 11th: John Batdorf
October 19th: Letho & Wright
October 26th: Shari Kane and Dave Steele
November 3rd: The Baker Family*
November 8th: Rogers and Nienhaus
November 14th: Lovestruck Balladeers**
November 16th: Dennis Stroughmatt et l'Esprit Creole
November 22nd: Rum Drum Ramblers**
November 23: The Road Apples Ride Again
November 24: The Road Apples Ride Again (2pm matinee)
December 6th: Rough Shop Christmas Extravaganza Night One
December 7th: Rough Shop Christmas Extravaganza Night Two
December 8th: Rough Shop Christmas Extravaganza Sunday Matinee
December 13th: Farshid Soltanshahi, Dave Black & Sandy Weltman 3rd Annual Holiday Show
December 14th: Jake's Leg 8th Annual Dance Party
December 27th: T.J. Muller**
December 28th: An Evening with Ryan Koenig
*Presented by Focal Point Friends of Old-time Music
**Presented by Focal Point Friends of Traditional Jazz, Blues & Ragtime
***Third Annual Focal Point Traditional Jazz Series