SPECIAL NOTICE, MARCH 24th
Due to inclement weather conditions, Michael Smith has had to abort his trip to St. Louis; unfortunately, tonight's concert is cancelled.  Michael sends his sincere regrets, and we will be scheduling a new date for him as soon as possible.  All advance ticket purchases will be refunded.
———————————————————————————————————————————————-
All our ticket prices are discounted $5 for advance purchases.  For example, $10/$15 means ten dollars in advance or fifteen dollars at the door.  Unless otherwise specified, advance tickets are available until noon on the day of the concert at brownpapertickets.com.  For any difficulties with online purchases, please call 1-800-838-3006.
DOORS OPEN 30 MINUTES PRIOR TO EACH SHOWTIME
---
---
---
---

Friday, March 23rd, 8pm, Price $10/$15: Andrew Calhoun
Andrew Calhoun's music is innovative and rooted in tradition. In forty years as a performer he has evolved an increasingly varied repertoire including original songs, Irish and American folk songs, Scottish ballads, spirituals, hymns, historical background, comic songs, and poems and songs by writers such as Dave Carter, Mary Oliver, and Robert Frost. He is currently working on a Robert Burns songbook, including new research on the tunes used by Scotland's bard. At age seven, Andrew memorized W. B. Yeats' "Song of Wandering Aengus," thus earning a nickel from his mother. He got his first guitar in 1967 at the age of ten, and began writing songs at twelve. By the late seventies, he was performing in the Chicago folk scene. Six months of janitorial work at the DAVEA Center in Addison, IL, funded a trip to Europe in 1977 leading him to hear Martin Carthy at the Cambridge Folk Festival in England, and Carthy along with Leonard Cohen remain guiding musical inspirations. He has since toured internationally, performing at folk clubs and festivals, pubs and house concerts. In 1992, Calhoun founded Waterbug Records, an artists' cooperative folk label which has grown to 130 titles, bringing some of the brightest singer-songwriters and folk musicians to an international audience. His own recordings have been released on Hogeye, Flying Fish, and Waterbug Records. Recent projects include a double CD, Rhymer's Tower: Ballads of the Anglo-Scottish Border, and Skeins, a duo CD with his daughter Casey Calhoun. In October 2012, Andrew was given the Lantern Bearer Award for twenty-five years of service to the folk arts in the Midwest by the Folk Alliance Regional Midwest. In July 2014 he received a lifetime achievement award from the Woodstock Folk Festival.
"A wonderful songwriter and funny, warm performer." – The Daily Iowan
"Calhoun is a master at story songs, finely crafted works that swiftly and economically capture a moment or express an emotion. Like the best novelists, he is able to assume different personas and see the world through other people's eyes." – June Sawyers, Chicago Tribune
"He's blessed with a resonant baritone, crystalline fingerpicking, and a writer's ear." – The Oregonian
"His songs are majestic in their imagery and endlessly challenging in their themes." – James Tarbox, St. Paul Pioneer Press-Dispatch
"…he goes an awfully long way toward overturning the prevalent image of folksingers trying to live in a past that never was." – Renaldo Migaldi, Chicago Reader
"…unbelievably powerful imagery." – Merlin David, Performing Songwriter
"He is a creative force in the songwriter movement, a dynamite guitarist, and a traditional song interpreter of great skill. His introductions to songs can keep you doubled up with laughter, his songs run the gamut of human experience and emotion." – Phil Cooper
"Andrew Calhoun tells the truth. To my knowledge, there is no better songwriter alive." – Dave Carter
TICKETS ARE STILL AVAILABLE AT THE DOOR
---

Saturday, March 24th, 8pm, $15/$20: Michael Peter Smith — CD release!
One of the most captivating songwriters in the folk arena, celebrated musician Michael Peter Smith has toured the United States and Canada for nearly five decades. He creates new work on a constant basis, and music's finest performers record his songs. His song "The Dutchman," a signature piece for the late Liam Clancy and for the late Steve Goodman, and still recorded by dozens of others, is considered a classic. Michael's new CD "Songwriting," reveals the inner workings of his songwriting process, tells stories: from first song and first guitar, to the inspiration for (and secret source) of his best known song, "The Dutchman," and performs this, and other songs, with distinctive Smithesque style.
Michael has appeared at The Focal Point more than a dozen times over the years, and his performances here have always been a special treat for all who attend. Come see why.

http://www.michaelpetersmith.com/
---

Wednesday, March 28th, $20/$25: Songbird Cafe
Stephanie Lambring
Erin Enderlin
Kyle Nachtigal
Ben Bedford
Doors- 6:45     Show 7:30

---

Friday, March 30th, 8pm, $10/$15: The Rum Drum Ramblers
The backward-glancing trio Rum Drum Ramblers is most commonly thought of as a blues band, and certainly, the young men in the group seek to revive a certain strand of acoustic, prewar blues music. But after listening to its second album, "Mean Scene," one could argue that the Ramblers is a soul band; just listen for a few minutes to guitarist and singer Mat Wilson's sweet, husky voice and feel the easy rhythm of the best early R&B singers. Or perhaps its best to describe it as a country act: There's so much twang-bangin and swift-pickin on Nothin' New that Buck Owens is probably tipping his ten-gallon hat to these fellows from the great beyond. But then, terming the Rum Drum Ramblers as country (or blues or soul) would ignore the jazzy underpinnings that Joey Glynn pumps out of his sonorous upright bass and the forceful blowing of its guest horn players. Better yet to put genre tags aside and let the Ramblers' interpretation of American folk idioms fan you like a humid breeze.
It's easy to pair the Ramblers with the similarly-styled Pokey LaFarge  after all, Glynn and harmonica player Ryan Koenig make up two-thirds of LaFarge's South City Three. But where LaFarge is a passionate performer, he is never ruffled; his gentlemanly demeanor doesn't allow for it. The Ramblers don't mind if a little sawdust gets mixed in with its whiskey, and that looseness spreads a freewheeling flavor over the dozen tracks on "Scene." Trash-can percussion and second-line horns adorn the lazy shuffle of Get Behind the Wheel, and the electric fuzz of All the Little Days proves that the band doesn't play it straight even when plugged in. In fact, the only constant across these songs is that Wilson's intuitive guitar playing — bluesy, jazzy, soulful, and twangy  — is tough to pin down. He's a stylist who has ingested decades worth of popular (and unpopular) music, and he and his equally flexible bandmates spit these influences back out in familiar but thrilling fashion.
ADVANCE TICKETS HAVE SOLD OUT FOR THIS EVENT, HOWEVER WE WILL STILL HAVE A BLOCK OF TICKETS AVAILABLE AT THE DOOR.
---
Saturday, March 31st, 8pm, $10/$15: Roger Netherton & Teddy Breihan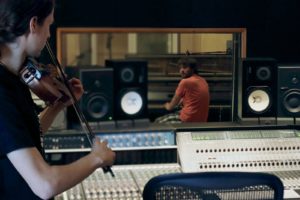 Teddy Breihan (piano) and Roger Netherton (violin) met in Japan while studying abroad in 2015.  Immediately a musical spark grew between them, drawing on Teddy's background as a versatile pianist and Roger's experience as a multi-genre fiddle player. Over the following years, their collaboration culminated in an album showcasing Teddy's compositions as well as some classic duo improvisations (available at teddybreihan.bandcamp.com/releases).
Teddy Breihan was born and raised in Milwaukee and has been playing piano since a young age. He's performed with a number of musical acts around the Milwaukee area as well as in St. Louis, meanwhile building his own original repertoire of evocative themes inspired by places and personalities, ranging in mood from energetic to contemplative.
Roger Netherton taught himself to play fiddle at age 11. Now, ten years later, he is well known for his powerful style and prize-winning performances at national, regional, and local competitions. Traditional old-time music remains one of his central interests, even as he has branched out to such styles as gypsy jazz, swing, and blues. He plays regularly at dances, shows, and festivals within and beyond his home of St. Louis.

---

Sunday, April 1st, 2pm MATINEE, $10/$15:  Focal Point Friends of Old-Time Music presents: Charlie Walden & Patt Plunkett
After twenty plus years of playing traditional music together Patt Plunkett and Charlie Walden (aka Patt & Possum) have learned a thing or two about getting along musically.  So while some couples might bicker about the bills or where to go out to eat, these two battle over chord progression and set lists.
Charlie and Patt both grew up listening to and playing traditional mid-western fiddle music.  Charlie learned as a teenager at the feet of some of Missouri's finest old time fiddlers, including Pete McMahan, Taylor McBaine and Cyril Stinnett and was encouraged by countless others.  Along the way he developed an interested in Canadian fiddle tunes as the fiddling in the Ottawa Valley is similar in style and shares some common repertoire with Missouri.  As such,  other important influences through recordings were Graham Townsend, Don Messer and Ned Landry.  He is also a big fan of Kenny Baker, Chubby Wise and Joe Meadows where Bluegrass is concerned.
Patt started out by playing piano for her grandfather, Carl Voorhees, who was a seasoned Illinois square dance fiddler.  She went on to play Irish-style piano accompaniment and formed a ceili band in Chicago, which won the local Fleah Ceol twice.  She is also a professional music educator and trained singer. Patt's love of music and natural ability as a dancer led her to take an interest in square and contra dance calling and instruction along with individual clogging and step dance performance.
Charlie and Patt are active contra and square dance musicians, performing for numerous such events each year.  They serve as instructors at several music camps, giving instruction on fiddle, piano styles, traditional dance and vocal music.

****PLEASE NOTE THIS SHOW BEGINS AT 2PM****
---

Friday, April 6th, 8pm, $15/$20: An Evening with Spencer Bohren
Spencer has a marvelous gift for sharing his great love for America's wealth of traditional folk, blues, gospel, and country music with audiences of all ages. His ability to animate the musicians and singers from the past with both respectful readings of their music and spellbinding stories is legendary. The atmosphere of his New Orleans home subtly informs each performance. What's more, the stories that preface the songs are as fascinating and well-crafted as the songs themselves.

---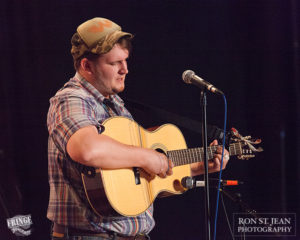 Saturday, April 7th, 8pm, $10/$15: Focal Point Friends of Old-Time Music presents: Willi Carlisle Goehring
Willi Carlisle is, according to The Washington Post, "powerful…both down-home and brainy." With years of collecting folklore, playing or calling square dances, and working in the avant-garde, Willi Carlisle Goehring is a multi-faceted songwriter, performer, and instrumentalist on the banjo, guitar, fiddle, and accordion. With a style forged in the fire of Ozark old-time music and his ever-growing collection of antique music, Carlisle's musical stories hoot, stomp, and saunter through joys and troubles uniquely southern and timelessly true.

---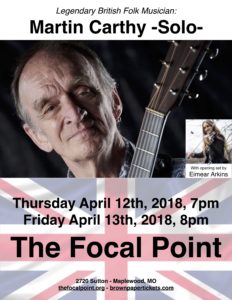 April 12th & 13th: $25/$30: Legendary British Folk Revivalist, Martin Carthy -Solo- (Opening set Eimear Arkins)
Martin Carthy (MBE) is an English folk singer and guitarist who has remained one of the most influential figures in British traditional music, inspiring contemporaries such as Bob Dylan and Paul Simon, and later artists such as Richard Thompson, since he emerged as a young musician in the early days of the folk revival.
If the English folk revival of the 1960s had a single "father" and guiding spirit, then Martin Carthy was it. Carthy's influence transcends his abilities, formidable though those are — apart from being one of the most talented acoustic guitarists, mandolinists, and general multi-instrumentalists working the folk scene in the 1960s through today, he's also a powerful singer with no pretensions or affectations, and is an even more prodigious arranger and editor, with an excellent ear for traditional compositions. In particular, he is as much a scholar as a performer, and frequently goes back to the notes and notebooks of folk song collectors such as Percy Grainger, scouring them for fragments that could be made whole in performance — no "second hander," he uses the earliest known transcriptions and recordings of many of the oldest folk songs known in England as his sources, and works from there. By 1966, at the time he was cutting his first two albums, Carthy was already an influence on Bob Dylan and Paul Simon, and by the end of the 1960s was de facto mentor to virtually every serious aspiring folk musician in England. At least three major English folk-rock bands, Fairport Convention, Steeleye Span, and the Albion Band, were formed either directly or indirectly with his help and influence.
Martin is an old, dear friend of the Focal Point family and patrons alike. It has been far too long since he's been able to make it back the midwestern United States. We are all very excited, humbled, and reminiscent about his return! Furthermore, it's no accident that Martin's visit nearly coincides with long-time Focal Point proprietors Eric and Judy Stein's 50th wedding anniversary! If it weren't for Eric and Judy, it is quite possible that our little theater and arts center would not exist. After its founding in 1975 by Bill and Janet Boyer (former owners of Music Folk in Webster Groves, MO), the Focal Point was handed down to a short succession of directors. In 1983 it was picked up by long-time fan and supporter of the traditional arts, Judy Stein, who ran the artistic side while her husband Eric took the technical aspects. Together, and with the help of a few friends, they expanded and grew the Focal Point into a world-class folk music destination, bringing in such acts as Martin Carthy, Dave Swarbrick, Doc Watson, Norman Blake, Dave Van Ronk, and John Renbourn, to name but few. In 2011, Judy took a semi-retirement from the venue and passed it to a new group of friends, but stays active as a part time volunteer and advisor while Eric Stein remains our head sound engineer and can still be found at the mixing board from time to time. With these concerts, we are celebrating not only the Focal Point's long, rich history but the couple who made us what we are today.
Eimear Arkins:
Eimear Arkins comes from a small village on the West Coast of Ireland called Ruan in County Clare but she has been living in Missouri for the last number of years. She is an award winning musician, singer and dancer with eleven Fleadh Cheoil na hÉireann titles to her credit. Eimear has toured extensively with the international music organization Comhaltas Ceoltóirí Éireann on concert tours throughout Ireland, Britain, North America and Canada. For the past six summers, Eimear has performed with the internationally renowned show Brú Ború and was part of the troupe that represented Ireland at World Expo 2010 in Shanghai. In August 2015, she traveled to World Expo in Milan with St. Louis Irish Arts where she promoted not only Irish culture but the expression of Irish culture worldwide.
Eimear has toured and performed throughout the US and in Ireland with Cherish the Ladies, Téada, The Nashville Celts and The Paul Brock Band. Eimear has been a regular teacher at St Louis Irish Arts since 2011 and has given workshops at festivals all over the world including Catskills Irish Arts Week, New York; Viljandi Pärimusmuusika Festival, Estonia; St Louis Tionól; Canadian Celtic Celebration, Canada and Festival Interceltique de Lorient, France.
Thursday, April 12th, 7pm

Friday, April 13th, 8pm
ADVANCE TICKETS FOR FRIDAY SHOW HAVE SOLD OUT!!
---

Saturday, April 14th, 8pm, $12/$15: The Aching Hearts EP Release
The Aching Hearts is a collaboration between two of St. Louis, Missouri's leading figures in folk and roots music. The duo features a mix of guitar, banjo, fiddle, mandolin, washboard, and old time vocal harmonies. Utilizing songs of the past and the present, An Aching Hearts performance will take you on a moving journey through the sounds and stories of the American experience. Their hard driving fiddle tunes will get you out of your seat. Their mournful country vocal duets will bring a tear to your eye, and their original songs and stories focus on life, death, love, and marriage are sure to inspire, entertain, and delight.

---
Friday-Sunday, April 20-22:
Tionól is celebrating 21 years of bringing the very best in traditional Irish music to St. Louis.  Come join us for a concert (see link) or better yet, join a workshop and learn how to play the penny whistle, or the bodhrán, the Irish drum.
We have a great lineup of musicians this year for fiddle, flute, guitar, song, uilleann pipes, whistle, bodhán and much, much more.  Kevin Crawford, the flute player for Lunasa will be here, along with the 2017 awardee of the prestigious Young Musician award.
Schedule
FRIDAY – April 20th
7:30 PM – Concert
at Focal Point, 2720 Sutton, 63143
See Concerts Page for details
Directions: see maps
SESSIONS FOLLOWING THE CONCERT
SATURDAY – April 21
9:00 AM – Workshop Registration
Venue: Nerinx Hall High School
530 E. Lockwood, Webster Groves, MO 63119
For more info see Workshops
Directions: see maps
9:30 AM – 3:30 PM – Workshops
There is a 1-1/2 hour break for lunch from 12 – 1:30PM
you can order lunch on the registration page or lots of places within walking distance
7:30 PM – Concert
Venue: The Sheldon Concert Hall, 3648 Washington Ave., 63108
See Concerts Page for details
Directions: see maps
11:00 PM till ?? – Sessions
Venue:  Tigín Irish Pub, 333 Washington Ave., 63104
Directions: see maps
SUNDAY – April 30
10:30 AM – 4:00? brunch and sessions at John D. McGurks, 1200 Russell
Directions: see maps
  All the information is available at www.tionol.org,
call 636-926-9192, or email mikemullins at tionol.org.
---

Wednesday, April 25th, $44/$50: Songbird Cafe
Matraca Berg
Marshall Chapman
Will Kimbrough
Tommy Womack
All Nashville – as seen at The Bluebird Cafe
Doors- 6:45     Show 7:30

---

Friday, April 27th, 8pm, $10/$15: Greg Silsby
Greg Silsby (formally front man for renowned Bluegrass band Cumberland Gap) is a long, tall drink of mountain water, with a tenor voice that cuts through the air like a sharpened wing. He's not smooth, he doesn't croon or wail, but his pitch is precise and his feel for original and traditional American material is convincing.  This will be a show you don't want to miss!

---

Saturday, April 28th, 8pm, $20/$25: Tempest 3oth Anniversary Tour
Our old friends, multi-national (Norway/ Cuba/ California/ Missouri!) Celtic rockers, this year celebrating 26 years on the road! They dazzle crowds with a blend of Scottish, Irish, Norwegian and original songs and tunes on fiddle, double-necked electric mandolin, drums, guitar and bass. Their energy is infectious, their musicianship is impeccable, their knowledge of their sources is extensive, and their sound is indescribable! You will most likely get up and dance.

---
 
Sunday, April 29th, 7pm, $15/$20: Duke Ellington's 119th Birthday Celebration: The Christopher Parrish Octet
Happy Birthday to the legend. Join eight of St. Louis' finest jazz musicians as they honor one of the true titans of jazz, Duke Ellington.  For just one night, The Focal Point will become a Harlem club, host to an "after hours" jam. Go back in time with us to New York in the 1930s, 40s & 50s – enjoy a night full of raw, uninhibited jazz.  It is in honor of his great genius that The Focal Point is proud to present the first annual Duke Ellington Birthday Celebration Concert. Prepare yourself for a musical experience rarely captured in a concert setting as these musicians forge jazz spontaneously and freely over the Ellington catalog. The Christoper Parrish Octet is: Dawn Weber (Trumpet), Rudy Torrini (Clarinet), Kendrick Smith  (Alto Sax), David Gomez (Tenor Sax), Eric Slaughter (Guitar), Bernard Terry (Bass),  Montez Coleman (Drums), and Christopher Parrish (Piano).
Band Leader, Christopher Parrish, first visited St. Louis this past June to play at the Second Annual St. Louis Piano Festival.  By the end of September, he'd moved here permanently and had been featured in the Riverfront Times' "Best of St. Louis 2017" issue as "Best St. Louis Story."  Since his move from Indianapolis, St. Louis has warmly embraced what he has to offer both as a lively interpreter of traditional ragtime and blues piano and as an exciting improvisational player covering a broad range of styles.  Both contemplative and witty – sometimes simultaneously – his playing routinely quotes from a variety of musical genres, including a generous sampling of classical themes, and always rewards close listening.  In addition to his solo playing, his other projects include The St. Louis Ticklers and an occasional role in Annie and the Fur Trappers.

****PLEASE NOTE THIS SHOW BEGINS AT 7PM****
---

Friday, May 4th, 8pm, $/$: David Power & Willie Kelly
David Power is one of Ireland's foremost musicians on the uilleann pipes.  Fiddler, Willie Kelly was born in the Bronx to a musical family from Ireland and is an extremely well-respected player and teacher. Together, they are embarking on a selective tour beginning in New York and on through the mid-western United States with their album Apples in Winter. The tour promises performances of pure quality; moving and deeply felt Irish traditional music at its best.
David Power, from Co. Waterford, Ireland, toured American performing arts centers with the Masters of Tradition for three consecutive years, appeared on Broadway in the Eugene O'Neill play A Touch of the Poet, starring Gabriel Byrne, and has performed with poets Dermot Bolger, Seamus Heaney, Kerry Hardie and others. He has three solo piping recordings: My Love is in America, Cuaichín Ghleann Neifín and The eighteen Moloney. He plays with Ciarán Somers in the group Pipers Union and in duet shows with Willie Kelly and with Martin Hayes.
Willie Kelly, based in New Jersey, has performed extensively with renowned Galway flute players, Mike Rafferty and Jack Coen, both National Heritage Fellowship award winners. He accompanied both Mike and Jack at their respective induction concerts and has played at the Smithsonian Festival of Folklife in D.C.  In 2009, Willie released a highly acclaimed duet CD with Mike Rafferty called The New Broom.  More recently he recorded with concertina player Dymphna O'Sullivan as a guest on the recordings Bean Cairdin and Enriched.
"…David Power brings a breathtaking freshness to the set, his fluid, fluent playing as light as a feather."  – Irish Times
"…Willie Kelly is a refreshing example of all that is good in Irish culture……" – CCE mid Atlantic Region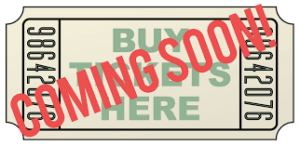 ---

Saturday, May 5th, 8pm, $10/$15: Patsy O'Brien and Dick Hensold
Patsy O'Brien, from County Cork, is a fine traditional singer, and a superb guitarist for traditional music, but with an eclectic technique that allows forays into many different styles.  He is also an awarded songwriter.  
Dick Hensold is the leading Northumbrian smallpiper in North America, and for the past 20 years has performed and taught in England, Scotland, Japan, Canada, and across the United States.   His solo Northumbrian smallpipes CD Big Music for Northumbrian Smallpipes was released in 2007.   
A concert of traditional Celtic music, but with unique and innovative arrangements, including a variety of songs from Britain and Ireland, accompanied by guitar and Northumbrian smallpipes (a quiet bagpipe from Northeast England), or various whistles. It also features traditional and historical tunes from Cape Breton Island, Scotland, Ireland and Northumberland, with a good measure of original music in the traditional style. As well as a broad range of styles of Celtic music, this program also features an impressive range of expression, from the jaunty and humorous to soulful, led by Patsy's warm and multi-colored baritone voice, Dick's variety of pipes and whistles, and the nimble instrumental virtuosity of both musicians.  Please note that NONE of these instruments are very loud.

---

Sunday, May 6th, 7pm, $15/$20: Focal Point Friends of Old-Time Music presents: Po' Ramblin' Boys: CJ's Birthday Bash
Born in the shadow of the Great Smoky Mountains, springing to life with all the zest and zeal you'd expect from a 1940s-style Tennessee bluegrass band, The Po' Ramblin' Boys have rambled far from home, touring throughout the United States and Europe. Yet these four friends  C.J. Lewandowski (Vocals, Mandolin), Jereme Brown (Vocals, Banjo), Josh Jug Rinkel (Vocals, Guitar), and Jasper Lorentzen (Bass)  remain close to their musical roots by cranking out some of the tightest and hardest-driving traditional bluegrass you'll find anywhere.

---

Wednesday, May 23th, $20/$25: Songbird Cafe
Supe Granda
Steve Scorfina
David Torretta
Mike Newman
Doors- 6:45     Show 7:30

---

November 24th & 25th: $10/$15: The Road Apples Ride Again
John Jump, Bob Breidenbach, Thayne Bradford, and Ed Cabanas, original members of the early Road Apples, ride again for TWO shows this November! Join them for an evening and an afternoon of original and Americana roots music.  These accomplished musicians each perform with a number of different groups and are among the most well-known and respected in the area.  Expect to hear a lot of great music and enjoy the camaraderie of these long-time friends.
Saturday, November 24th, 8pm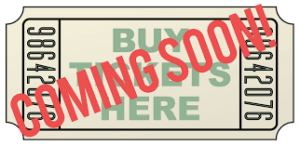 Friday, November 25th, 2pm (Matinee)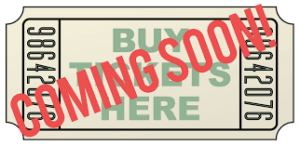 ---
May 2018 & Beyond:
May 13: Wil Maring and Robert Bowlin
May 11: The Western Satellites
May 12: Calvin Street Band
May 18: Dennis Stroughmatt – Tribute to Ray Price and His Cherokee Cowboys
May 19: No Concert — Taste of Maplewood
May 25: Paddy Keenan & Kevin Buckley
May 26: TBA (reserved)
June 1: Rich McDonough Acoustic
June 2: Switchback
June 8: Ivas John & Gary Gordon
June 9: Dakota Dave Hull*
June 15: Tommy Martin, Eileen Gannon, Eimear Arkins & Kevin Buckley
June 16: The Chimps CD Release (Opening set: Nick Gusman)
June 22: Jake's Leg Acoustic Summer Dance Party
June 23: Sweetie and the Toothaches
June 29: TBA (reserved)
July 6th: TBA (reserved)
July 13th: No Concert: Let Them Eat Art
July 14th: TBA
July 20th: Jane and John Vidrine*
July 21st: Marge Steiner and Andy Cohen
July 27th: Eric Taylor
July 28: Fifth Annual Guitar Heroes Showcase: Dave Black, Brian Curran, Tom Hall
August 3rd: Lehto & Wright
August 4th: TBA (reserved)
August 10th: TBA (reserved)
August 11th: Salt of the Earth
August 17th: Django Reinhardt Tribute: Joe Park, Dave Black, Gary Hunt, and Paul Davis**
August 18th: Chicago Cellar Boys**
August 24th: Roya and the Hightimers**
August 25th: Autumn's Child**
August 31st: Miss Jubilee**
September 1st: Charlie Halloran**
September 2nd: Shake 'Em Up Jazz Band**
September 7th: Farshid Etniko World Music Trio**
September 8th: Acadia Dance Orchestra under the direction of TJ Muller**
September 19th: April Verch & Joe Newberry*
September 22nd: Roy Bookbinder
September 28th: Lucas Simpson
September 29th: Mark Dvorak
October 5th: Maire NiChathasaigh and Chris Newman
October 6th: TBA (reserved)
October 19th: An Evening with Erin Bode
October 27th: TBA (reserved)
November 10th: Andrew Finn Magill
November 16th: Muriel Anderson
November 17th: Brian Curran, Eric McSpadden, and Jeremy Siegel-Moss
November 24th: Road Apples Ride Again (Evening Show)
November 25th: Road Apples Ride Again (Sunday Matinee Show)
December 7th: Rough Shop Annual Christmas Extravaganza (Night 1)
December 8th: Rough Shop Annual Christmas Extravaganza (Night 2)
December 9th: Rough Shop Annual Christmas Extravaganza (Sunday Matinee)
December 14th: Farshid Soltanshahi, Sandy Weltman & Dave Black: 2nd Annual Holiday Show
December 15: Jake's Leg 6th Annual Acoustic Christmas Dance Party
December 29th: An Evening with Ryan Koenig
2019
January 4th: Keltic Reign (Friday Evening Show)
January 6th: Keltic Reign (Sunday Matinee)
January 26th: Auset Music Project
February 2nd: WirePilots
*Presented by Focal Point Friends of Old-time Music
**2018 Focal Point Traditional & World Jazz Series